Britain's Secret War in Yemen: A Background to the Houthi Crisis and How UK Policy Crushes Socialism
By T.J. Coles
12 July, 2015.
Using UK-supplied weapons, Saudis pound Yemen.
The carnage in Yemen is exacerbated by hitherto unreported British foreign policy interests, including the crushing of socialist elements and the killing of civilians in anti-Huthi operations.
BRIEF HISTORY
Aden, now Yemen, was part of the British Empire and 'the site of a massive British Petroleum refinery which dealt with the oil production from Kuwait', Dr. Stephen Dorril notes in his partly-censored history of MI6. In the North, an uprising led by the Nasserite nationalist Colonel Abdullah al-Sallal deposed the British-backed Imam. Backed by Saudi and Jordanian forces, both of which were trained by the SAS, loyalists initiated a civil war. Egypt's President Nasser invaded Northern Yemen in order to back the new government.1
1962: British troops mass on the Yemeni border. 
Former Chatham House Fellow Mark Curtis unearthed heavily censored, partly declassified files in which UK Foreign Office Ministers, including Alec Douglas-Home, complained that if Yemen fell from the sphere of British influence, other sheikhdoms, like Oman and the UAE, would be inspired to revolt, and Britain's 'credibility' would be damaged. In response to the Radfan rebellion, High Commissioner Sir Kennedy Trevaskis suggested to the British mercenary forces that they 'put the fear of death into the [Yemeni] villagers' with air raids, which they did. Prime Minister Harold Macmillan wrote that 'it would not suit us too badly if [Yemenis] were occupied with their own internal affairs during the next few years'. As we shall see, this divide and conquer strategy operates today.2
AFTER "AL-QAEDA"    
From 1962, Britain ran a covert mercenary war in Yemen, in which a staggering 200,000 people died in an eight year period, many from chemical weapons, such as phosgene, produced by the tax-funded Porton Down laboratories (the UK's biochemical warfare plant). The operations were run by MI6 head Dick White, and former MI6 vice chief turned banker George Young via the latter's Mossad-allied proxy, Neil McLean.3
Chemical weapons: UK-supplied phosgene used in Yemen's civil war.
By the late-1970s, the CIA and MI6 were training fascistic Yemeni collaborators to 'draw the Russians into the Afghan trap', in the words of US President Jimmy Carter's National Security Advisor Brzezinski. The plan worked. The Soviet invasion of Afghanistan in December 1979 led to the deaths of around 1 million Afghans and drove a flood of refugees to Pakistan (some of whom later became the Taliban). These were just 'a few stirred-up Moslems' (Brzezinski). According to New Labour's Foreign Secretary Robin Cook, 'al-Qaeda' exists in name only and means 'the database' or 'computer file' of tens of thousands of Arab mujahideen terrorists whom the US Navy SEALS, Green Berets, and CIA, and the UK SAS and MI6 were training in Afghanistan throughout the 1980s.4
The devout Fadhli, boozin' and smokin'.
Yemen's unification under the leadership of President Saleh in 1990 galvanised former mujahid, Tariq al-Fadhli, 'a descendant of the British-appointed Sultan of Abyan … [whose] family acquired large land holdings during the era of British rule'. Historian Gordon Waterfield notes that al-Fadhli set up 'training camps in southern Yemen for "Afghan-Arabs" – Arabs who fought in Afghanistan – and his fighters attacked the PDRY government, which had nationalized his family's lands'.5
The PDRY refers to the People's Democratic Republic of Yemen, or the socialist South, which, under Saleh, was united with the North in 1990. Al-Fadhli 'was linked to a series of bombing attacks targeting socialist officials in November 1992', Waterfield continues. Since 1990, Southerners have become increasingly marginalised by the central government, losing their jobs, pensions, and many State-rights, which are severely restricted in Yemen.6
Banks and oil companies associated with the European Union and the US want to pursue 'development' in Yemen, but on their own, narrow terms. Genuine socialism is, of course, not acceptable. Added to which, Yemen is on the Gulf of Aden, considered one of the most important trading routes in the world. Thus, under the guise of counterterrorism, the UK Ministry of Defence has been training Yemen's Minister of the Interior in State repression.
The CIA and MI6 created what is now called 'al-Qaeda'. 'Al Qaeda in Yemen's leader, Nasir al-Wuhaishi, has publicly expressed support for the Southern Movement', writes Human Rights Watch. However, as the organisation also infers, this is black propaganda put out by the CIA or related agencies designed to associate socialists with terrorists.7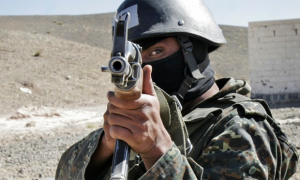 Yemen's elite Interior Ministry, trained and armed by UK.
HRW notes: 'Al-Wuhaishi may have been speaking only for his Yemeni groups, since comments by a global al Qaeda leader made one month later distanced the group from supporting secession of southern Yemen'. In June 2009, Mustafa Abu al-Yazid, 'al-Qaeda's' 'general chief in Afghanistan' and a member of its high Shura Council, 'denied al Qaeda's support for southern secession … Some Yemeni political analysts and two foreign diplomats Human Rights Watch met dismissed claims of direct links between the [Yemen] Southern Movement and al Qaeda. One European ambassador called such allegations a "red herring" put out by government officials'.8
For the advocates of financial neo-liberalism, it is necessary to counter socialism in Yemen, and indeed everywhere, especially as 'There are an estimated 100,000 military and civil employees in the south who were forcibly retired after 1994, and their pension arrangements were at the core of the original protests in 2007', Human Rights Watch continues. As one of the few organisations to document the events, HRW forms the bulk of the following research.9
COUNTER-REVOLUTION
The Southern secessionist movement is a loose association of interests, including the Yemeni Socialist Party, local branches of the Islah party, Nasserites, and Baathists, using 'grassroots networks to mobilize support for the movement … Since 2007', HRW continues, 'southern Yemenis have conducted sit-ins, marches and demonstrations to protest what they say is the northern-dominated central government's treatment of them, including dismissal from the civil and security services'.10
In its Annual Accounts 2006-07, the UK MoD published a map of then-current deployments, including this one-line revelation: 'Yemen: Training support to forces of the Minister of Interior'. A map published in the 2009-10 report confirms that training continued. As we shall see, unreported Parliamentary statements confirm Britain's training of the Yemeni military as late as November 2011. HRW's reports provide an indication of the Yemeni security services and their operational procedures, and in doing so reveal both Britain's direct and proxy involvement:11
'There are many security agencies in Yemen answering to different parts of the executive. Their remits overlap, leading to public uncertainty about which agency might be responsible for a particular human rights violation'. According to HRW, 'Central Security is officially under the Minister of Interior's direct authority. This agency has been heavily involved in the use of force against southern demonstrators. Also under the Interior Ministry are the Criminal Investigation Department'.12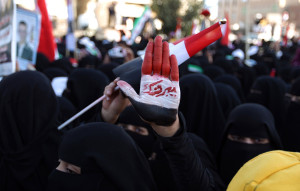 Counterterrorism means countersocialism.
Since 2007, the security forces and especially the Central Security, one of the organisations trained directly or indirectly by the UK MoD, 'have carried out widespread abuses in the south—unlawful killings, arbitrary detentions, beatings, crackdowns on freedom of assembly and speech, arrests of journalists, and others'. As in Colombia, 'These abuses have created a climate of fear, but have also increased bitterness and alienation among southerners, who say the north economically exploits and politically marginalizes them'.13
HRW also reports that 'During a May 21 [2009] protest in Aden security forces on several different occasions opened fire without warning or provocation, wounding 23 protestors … Protestors responded by throwing rocks at the security forces, who again responded with deadly force'. Britain provides not only training for these atrocities, but weapons, as we shall see.14
'Security forces have made it increasingly difficult for wounded persons to obtain medical care by ordering public hospitals not to treat persons wounded at protests, stationing officers from the Political Security Organization (PSO) and other security agencies at hospitals, and even carrying out attacks inside hospitals or seizing wounded patients from their beds', HRW continues. Note: the organisation says 'increasingly', as MoD support increased.15
In April and May 2009, 'Armed clashes in the Ahmarain mountains', northeast of Aden, 'left several soldiers dead and civilians wounded'. This illustrates the blurring distinctions between internal 'security' and outright domestic war. 'In July 2009 a clash between followers of Tariq al-Fadhli', Britain's former mujahideen ally, 'and security forces in Zanjibar, the capital of Abyan province, left at least 12 persons dead in the wake of a "festival" promoting southern demands'. Al-Fadhli reportedly turned against President Saleh in the years prior. However, as the British officials stated in the 1960s, internal conflict services the UK's divide and rule interests, and thus al-Fadhli's could be a staged opposition.16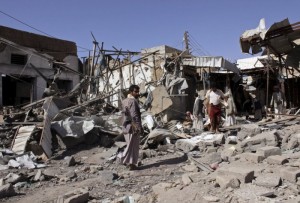 Saudi forces destroy civilian areas.
'On April 28 [2009], the Yemeni army began moving new troops into the Ahmarain mountains … , establishing military positions overlooking villages in the area and erecting new checkpoints'. HRW also notes that in order to frighten Southern demonstrators and block information from other Yemenis that might lend support to the cause, 'The authorities have … launched a frontal attack on the independent media, suspending publications, blocking websites, arresting journalists, and even shooting up the offices of the largest independent newspaper'.17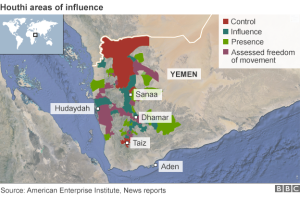 Houthi-controlled areas.
In the UK, we hear a lot about China's use of State-internet censorship, including its persecution of bloggers. When it comes to the UK elite's allies, however, we have our own media blackout, as little of the above has been reported in the UK. 'On May 4, 2009 the [Yemeni] Ministry of Information suspended from publication eight daily and weekly independent newspapers over coverage they had given to events in the south', HRW reports, including: Al-Ayyam, Al-Masdar, Al-Watani, Al-Diyar, Al-Mustaqilla, Al-Nida, Al-Shari, and Al-Ahali.18
'Also in May, the government created a new court to try journalists'. Except for Al-Ayyam, 'all other[ newspapers] print on government presses, which makes it easier for the authorities to interfere with their publication'. President Saleh sent envoys to Al-Ayyam, asking the editors 'to tone down' their coverage of the protests and the government's brutal UK-trained and armed crackdowns. Yemeni officials conceded that Saleh 'was worried the images would be used as evidence against him at the International Criminal Court in the Hague'. As always with victor's justice, those who provide the training and weapons needn't fear.19
'Following deadly protests in January 2008, the Yemeni authorities also blocked several websites, apparently after they posted graphic video footage of security forces firing "unprovoked at the crowd [of protesters]," according to the Committee to Protect Journalists'.20
That's the South.
NORTHERN CIVIL WAR
In the North, a civil war has been fought intermittently since 2004 against Huthi 'rebels', whose 'political aims … are not clear. The group originated as a religious movement—the "Believing Youth" ( al-shabbab al-mu'min)—in the mid-1990s, mainly to promote religious education in Sa'da governorate', writes HRW. 'Yemenis in Sa'da overwhelmingly follow the Zaidi branch of Shia Islam'. Indeed, then-President Saleh is a Zaidi, whose people 'ruled large parts of Yemen for a thousand years under a religiously legitimized imamate until 1962, when a military-led coup eventually ushered in republican rule'.21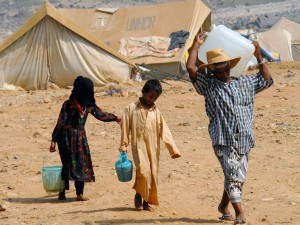 Hundreds of thousands of Yemenis are refugees.
The 'Huthis object to what they say is the government's failure to end Saudi-inspired Sunni Islamic missionary activities in Sa'da, which they say clash with traditional Zaidi doctrine'. In the 1990s, the 'Believing Youth' established schools to teach the Zaidi code. However, the Yemeni Government, 'which originally supported these schools[,] decided around [the year] 2000 that they represented a Zaidi revival that might threaten its power base'.22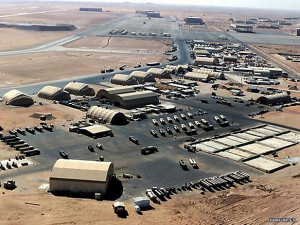 Saudi military base.
In 2006, Britain exported £7.5 million-worth of weapons to Yemen, which, as we shall see, were used to deadly effect. They included: 'weapon day and night sights', 'armoured all wheel drive vehicles', 'components for combat helicopters', 'components for combat aircraft', and 'components for military surveillance aircraft'. Since 2007, international aid agencies have sought access to the northern Sa'da governorate. As the military operations intensified, the Yemeni authorities 'severely restricted humanitarian access to tens of thousands of civilians in need'. Over the years, the war has intensified. 'After a fifth round of fighting erupted in May 2008', HRW continues, 'the government blocked the movement of all commercial goods, including staple foods and fuel, an act that appears to constitute an illegal collective punishment'.23
On the civil war issue and the human rights abuses, the British media were largely silent, and on the issue of Britain's involvement, totally silent. HRW further notes that between February 2007 and July 2008, Saleh 'imposed a total information blackout on Sa'da governorate' and 'clamped down on media coverage, banning local and international journalists from traveling anywhere in the governorate, threatening journalists covering the conflict, and arbitrarily arresting internet webmasters and others with information on civilian casualties'—just as the regime had across the nation with regards to the Southern secessionist crisis. Further isolating people, 'The government cut off most mobile phone subscribers, allowing only a few government-vetted individuals access to the network'.24
HRW also reports that Saleh blocked access to the World Food Programme and the Yemeni Red Crescent, two organisations upon which thousands of people's lives depended. 'In 2008 the conflict spread beyond Sa'da governorate into 'Amran, Hajja, and Jawf governorates, and in June 2008 briefly reached Bani Hushaish, on the outskirts of Yemen's capital, San'a'. Fighting started again in August 2009, after the military launched Operation Scorched Earth—all the while, Yemeni soldiers and senior offices were trained in the UK.25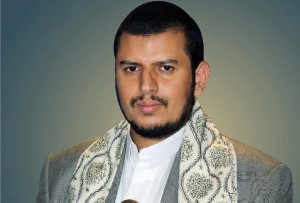 Abdul Malik al-Houthi.
In 2009, Britain exported 'Night vision goggles', 'body armour', and 'components for body armour' to the Yemeni military.26
Violence erupted around Hasama, near Malahit and Razih on the border with Saudi Arabia, and in Saqain, south of Sa'da town. The Yemeni Armed Forces attacked Huthi rebels by 'using fighter jets, artillery, and tanks. Huthi fighters mainly use small arms and some artillery. No official casualty counts exist, but Yemen's news outlets give almost daily reports of dozens of civilian and Huthi fighter casualties', HRW continues, noting 'the government's air strike on Adi, in the Harf Sufyan District, killing over 80, including displaced civilians'.27
The independent Yemeni newspaper Al-Masdar reported that on 15 October, government aircraft bombed the market at Razih. One of HRW's 'well-informed sources' testified that villagers took 16 casualties, including a dead infant to their local Ministry of Health clinic. Government aircraft were reported to have bombed five villages in the Wasit District. A Yemeni from Silah village informed HRW that Huthis took over the area three months before the start of Ramadan, during which time Government aircraft bombed Silah 'and at least three other nearby villages—Shaqih, al-Haira and Wadi 'Ayyan''.28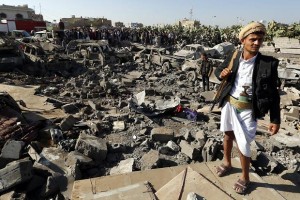 Civilian areas ruined.
After August 2009, the start of the war's 'sixth round', shelling by both sides, coupled with Government aerial bombing resulted in the deaths of hundreds of civilians and the razing of 'entire villages'. By February 2010, aid agencies were struggling to help even a fraction of the 265,000 displaced civilians, most of whom were/are women and children. 'At a high-level meeting on Yemen in London in January 2010, UK Foreign Secretary David Miliband' noted Britain's 'commit[ment] to non-interference in Yemen's internal affairs'.29
On 12 February 2010, Saleh and the Huthis 'agreed on a truce that ended the sixth round of fighting in a five-year-long war that has devastated the lives of hundreds of thousands of people'. Exemplifying Britain's 'commitment to non-interference', MoD training continued, as did Government-approved weapons exports. In 2010, Britain exported £250,000-worth of weapons to Yemen, including 'military firing sets', 'military helmets', and 'technology for the use of military cameras'.30
CRUSHING THE ARAB SPRING
HRW also reports that in November 2009, Saudi Arabia, which receives the biggest arms shipments in the region from the UK, including pathogens, nuclear-grade materials, aircraft, and tanks, entered the war by sending jets into Yemen's airspace to bomb Huthi-held positions. In that month, 'following what it said was a cross-border raid on its territory, Saudi Arabia engaged the Huthis in sustained hostilities, including airstrikes, and established a "buffer zone" inside Yemen along the Saudi border'. In addition to the above admission considering UK MoD training of Yemen's Minister of the Interior, the MoD noted its 'Training support to Saudi Armed Forces', which has been going on since at least the 1960s.31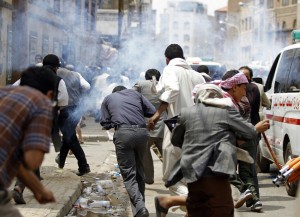 UK-armed police attack Yemeni protestors.
As the Arab Spring was getting under way in early-2011, The Observer, the only newspaper to cover the following, which it did by citing counterterrorism and counter-Iran strategies as a justification, noted: 'The courses are organised through the British Military Mission to the Saudi Arabian National Guard, an obscure unit that consists of 11 British army personnel under the command of a brigadier'. Beginning in the early-1960s, Britain has sent 'up to 20 training teams to the kingdom a year', including training snipers, or 'urban sharp shooters'. HRW reports that 'Saudi Arabian secret police … arrested Yemenis blogging from Jeddah for websites featuring news about the Southern Movement, and secretly rendered [prisoners, including] Ali Shayif to Yemen in May or June, 2009'.32
In 2000, the British Parliament noted 'British personnel on secondment, assistance and advice on training, and joint exercises' to the regimes of Bahrain, Kuwait, Oman, Qatar, Saudi Arabia, and the UAE, explaining that 'Bahrain is a regular port for British ships from the Armilla patrol', whilst 'Saudi Arabia provides one of the UK's largest defence markets'. More generally, Britain's objectives are 'to preserve stability and guarantee the West's oil supplies remains a key issue'. Numerous human rights organisations have documented the Saudi elite's brutality, including floggings, beheadings, crucifixion, limb amputations, torture, and general fear meted out to those who insult the Kingdom, Islam, change their religion, practice homosexuality, etc.33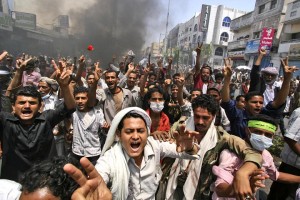 Long-fought for rights exploded with the Arab Spring 2011.
In 2008, a year before the Saudi invasion of Yemen, Britain exported £101 million-worth of weapons to the Kingdom, including: 'ammunition for wall and door breaching projectile launchers', 'armoured all-wheel drive vehicles', 'assault rifles', 'components for projectile launchers', 'equipment for operation of military aircraft in confined areas', 'gun mountings', 'gun silencers', and 'military devices for initiating explosives'. In 2010, a year after the attack, Britain exported £339.9 million-worth of weapons to Saudi Arabia, including: 'components for air-to-surface rockets', 'components for bombs', 'small arms ammunition', and 'sniper rifles'.34
After the invasion of Northern Yemen, Liam Fox, Britain's then-Secretary of State for Defence, 'visit[ed] the Kingdom … [H]is programme included an insight into the training given to Saudi pilots by the [UK] RAF'. The MoD further reported that the Saudi regime 'signed an agreement in 2007 for the supply of 72 Typhoon aircraft to the Royal Saudi Air Force worth £4.43bn'. The so-called Salam ('Peace') Project 'is supported by substantial weapons, infrastructure, training and logistics support packages from the UK. The first 12 Typhoons have been delivered and have already built up extensive flying hours', bragged the MoD.35
British supplied Saudi bomber.
As with Saudi Arabia, human rights groups have long noted the Bahraini regime's use of torture and general intimidation. In the only publication to cover the story, the Independent reported that 'British police have helped to train their counterparts in Bahrain, Libya, Abu Dhabi, Qatar and Saudi Arabia through schemes run by the National Policing Improvement Agency', also noting 'the long-standing connection between the UK military and Arab regimes that send scores of officers through training at Sandhurst. Five Arab heads of state are Sandhurst alumni, including the King of Bahrain, Sheikh Hamad ibn Isa al-Khalifa, who ordered the violent crackdown' on demonstrators in Bahrain, beginning in 2011. 'Other Arab rulers who have been through officer training in Britain include King Abdullah of Jordan, the Emir of Kuwait Sheikh Saad al-Abdullah al-Salim Al Sabah, the Sultan of Oman, Qaboos bin Said al Said, and the Emir of Qatar, Sheikh Hamad bin Khalifa Al Thani'.36
UK-trained Yemeni snipers in action during Arab Spring.
A year before the Arab Spring, Britain exported over £5 million-worth of weapons to tiny Bahrain, including: 'rifles', 'shotguns', 'small arms ammunition', 'sniper rifles', and 'submachine guns', which, along with the UK's training, was put to deadly effect. In 2011, Amnesty International reported that 'hundreds of people were arrested, detained and prosecuted for participating in anti-government protests'. By 17 March 2011, 'Seven protesters were killed and others were injured, some due to the use of live ammunition and shotguns at close range by the police and army. In March 2011, as the protests continued', Amnesty documents, 'Saudi Arabian troops were dispatched to Bahrain and on 15 March the King declared a state of emergency. The next day, Bahraini troops stormed the Pearl Roundabout and the Financial Harbour where protesters were gathered, causing further deaths and injuring many'. Many more Bahrainis died at the hands of the regime.37
These examples are important in themselves, but also relate to Yemen, given the similarity of abuses. In Yemen in 2011, Amnesty further reports, 'In some instances protesters were killed when security forces attacked them during prayer … [S]ecurity forces opened fire on the protest camp [al-Taghyeer Square] during the early morning prayer'. Amnesty goes on to state that 'The most serious incident of violence against protesters was an apparently co-ordinated attack on the same protest camp' in Sana'a, in March 2011, which left 52 people dead and hundreds more injured. Imagine if during Occupy London, Yemeni-trained British snipers using Yemen-supplied rifles and bullets, slaughtered dozens of peaceful demonstrators. That is what happened in Yemen with the roles reversed:38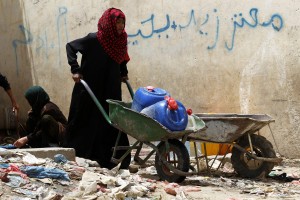 The international sanctions harm civilians.
In November 2011, Richard Burden 'ask[ed] the Secretary of State for Defence … what the training is which is being provided to Yemeni officers in the UK'. Nick Harvey, Minister of State for the Armed Forces, confirmed that 'Yemeni officers are currently undertaking training on courses at the following establishments within UK', as they have been doing since at least 2007, probably earlier: 'Royal College of Defence Studies: strategic development and training for senior officers. Joint Services Command and Staff College: staff training for middle ranking officers. Britannia Royal Naval College: Navy initial officer training. Royal Military Academy Sandhurst: Army initial officer training. Defence School of Languages: English language training'.39
CONCLUSION
The dilemma for Britain's elite in Somalia and Yemen alike is the strategic importance of the Gulf of Aden, and thus the prevention of socialist development in either country. Analysts understand that if foreign policy has to be presented to the public, it must be framed as if Britain is responding to threats to national security.
In 2010, the UK's Yemen Ambassador Tim Torlot was allegedly targeted by a suicide bomber. However, this author conducted a press analysis at the time and found that the only sources making the claim were the Yemeni Security Forces—no independent journalists verified the incident. In 2010, it was widely reported that a bomb from Yemen had been found on a cargo plane bound for the UK.40
In a single episode of the BBC's Newsnight, a UK Government official confirmed that there was no bomb on the plane—it was the only time that the event was reported as a hoax. Ratedesi archived the snippet online as 'UPS Yemen Bomb Scare is a Hoax BBC Confirms No Explosives'.41
A few months later, the Arab Spring occurred. British-trained snipers murdered dozens of Yemenis. It is as if the suicide bomber story and the UPS plot had primed the British public to accept Saleh's slaughter of innocent Yemenis. Information agents needn't have feared: the media hardly reported Saleh's brutal crackdowns, focusing instead on Assad's, the Iranian regime's, Gaddafi's, and those of other designated enemies.
NOTES
Stephen Dorril, 2000, MI6, London: The Fourth Estate.
Quoted in Mark Curtis, 2004, Unpeople, London: Vintage.
Dorril and Curtis, op. cit.
John K. Cooley, 2002 (2nd), Unholy Wars, London: Pluto Press.
Human Rights Watch, 'In the Name of Unity', December, 2009, 1-56432-568-7.
Ibid.
Ibid.
Ibid.
Ibid.
Ibid.
Ministry of Defence (UK), Annual Accounts 2006-07 and Annual Accounts 2009-10, London: The Stationary Office Ltd.
HRW, 'In the Name…', op. cit.
Ibid.
Ibid.
Ibid.
Ibid.
Ibid.
Ibid.
Ibid.
Ibid.
Human Rights Watch, 'All Quiet on the Northern Front?', March, 2010, 1-56432-607-1.
Ibid.
Foreign and Commonwealth Office (UK), 'United Kingdom Strategic Export Controls', 2006, London: The Stationary Office Ltd.
Human Rights Watch, 'Invisible Civilians', November, 2008, 1-56432-396-X.
Human Rights Watch, 'All Quiet …', op. cit.
Department for Business, Innovation, and Skills, 'Strategic Export Controls: Country Pivot Report', 2009, London.
Human Rights Watch, 'All Quiet …', op. cit.
Ibid.
Ibid.
Quoted in ibid. Department for Business, Innovation, and Skills, 'Strategic Export Controls: Country Pivot Report', 2010, London.
HRW, ibid. and Ministry of Defence (UK), Annual Accounts 2009-10, London: The Stationary Office Ltd.
Jamie Doward and Philippa Stewart, 'UK training Saudi forces used to crush Arab spring', The Observer, 28 May, 2011, https://www.guardian.co.uk/world/2011/may/28/uk-training-saudi-troops and HRW, 'In the Name…', op. cit.
Parliament, 'Defence – Thirteenth Report', 2 August, 2000, https://www.parliament.the-stationery-office.co.uk/pa/cm199900/cmselect/cmdfence/453/45308.htm#a27 and Amnesty International, 'Saudi Arabia: Assaulting Human Rights in the Name of Counter-terrorism', July, 2009, MDE 23/009/2009.
Department for Business Enterprise and Regulatory Reform, 'Strategic Export Controls: Country Pivot Report', 2008, London, and Department for Business, Innovation, and Skills, 'Strategic Export Controls: Country Pivot Report', 2010, London.
Ministry of Defence (UK), 'Secretary of State for Defence visits Saudi Arabia', 27 September, 2010, https://www.mod.uk/DefenceInternet/DefenceNews/DefencePolicyAndBusiness/SecretaryOfStateForDefenceVisitsSaudiArabia.htm
Jerome Taylor, 'How Britain taught Arab police forces all they know: Campaigners raise questions about 'cosy relationship' as death toll mounts', Independent, 19 February, 2011, https://www.independent.co.uk/news/world/politics/how-britain-taught-arab-police-forces-all-they-know-2219270.html and Her Majesty's Armed Forces, 'The Royal Military Academy Sandhurst', https://www.hmforces.co.uk/education/articles/1615-the-royal-military-academy-sandhurst
Department for Business, Innovation, and Skills, 'Strategic Export Controls: Country Pivot Report', 2009, London. Amnesty International, 'Bahrain: Protecting human rights after the protests', November, 2011, MDE 11/066/2011.
Amnesty International, 'Moment of truth for Yemen', April, 2011, MDE 31/007/2011.
House of Commons, 'Yemen: Military Aid', 30 November, 2011, Column 919W, https://www.publications.parliament.uk/pa/cm201011/cmhansrd/cm111130/text/111130w0004.htm
See my, 'How to create your very own terrorist State', Yemen Times, July, 2010, archived at https://www.aljazeerah.info/Opinion%20Editorials/2010/July/27%20o/How%20US-UK%20Create%20'Terrorist'%20States%20Yemen%20as%20a%20Case%20Study%20By%20Tim%20Coles.htm
Ratedesi, 'UPS Yemen Bomb Scare is a Hoax BBC Confirms No Explosives', 30 October, 2010, https://www.ratedesi.com/video/v/Ym4ywpzV23w/UPS-Yemen-Bomb-Scare-is-a-Hoax-BBC-Confirms-NO-Explosives