Je Suis Djamel-Eddine: The Hypocrisy of the Global Charlie Hebdo Protests
By T.J. Coles
14 January, 2015.
Djamel-Eddine Fahassi
The murders in Paris this month (January 2015) are indeed a tragedy and should be reported and condemned as such. They are, however, no more of a tragedy than the journalists around the world murdered each year by gangs and proxies trained, armed, and protected by the British, US, and French special forces.
Just one month before the murders of the Charlie Hebdo employees, and others, by gunmen connected to British intelligence,1 Reporters Without Borders updated its 'Disappeared, Kidnapped Journalists' webpage. On it, disappeared Algerian radio journalist Djamel-Eddine Fahassi was profiled.2
In April 2012, Amnesty International closed its case-file on Fahassi, writing: 'In May 1995 … Fahassi was on his way to buy food for his family when he was arrested by men in plain clothes.  He has not been seen since … We have been advised that [he] is almost certainly dead'.3
Fahassi was not the only victim. The Committee to Protect Journalists wrote a letter to Algeria's ruler Abdelaziz Bouteflika in 1999, stating:
Djamel Eddine Fahassi and Aziz Bouabdallah … were abducted by men believed to be state security agents on May 6, 1995, and April 12, 1997, respectively. For several years, our organization has expressed its deep concern to the Algerian government about their continued ''disappearance'' and urged that immediate action be taken to ascertain their whereabouts … Prior to his ''disappearance,'' Fahassi had been targeted by Algerian authorities on at least two occasions in response to his published criticisms of the government.4
At the time, the French were training and arming the Algerian special forces whose operatives were murdering civilians as part of their so-called counterterrorism measures. The Independent's courageous and principled foreign correspondent, Robert Fisk, reported in 1994: 'France has been giving covert military support to the Algerian regime for months. Helicopters, night-sight technology for aerial surveillance of guerrilla hide-outs and other equipment has been sent to the Algerian army'.5
Where were the nationwide and global solidarity marches for Fahassi and Aziz, expressing moral outrage over the State terror? BBC News Online has a single article from 2001 about their disappearances. The article, just 61 words in length, also named Mohamed Hassaine, Kaddour Bouselham, and Salah Kitouni among the missing. It made no reference to the Algerian State's culpability nor the connections with the French government.6
For the Charlie Hebdo victims, the British government, which is currently waging yet another illegal war (this time against ISIS) in Iraq, jumped on the moral bandwagon. London Mayor Boris Johnson informed the public: 'I am not interested in this civil liberties stuff. If they are a threat I want their email and calls listened to'. The first place Mr. Johnson should start is with Abu Qatada, Abu Hamza, and other MI5 intelligence assets linked to the murders.7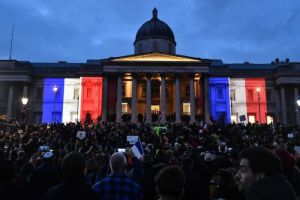 Protestors in London.
COLOMBIA
With the National Gallery emblazoned with the French flag, thousands of Londoners paid tribute to those who died in the Charlie Hebdo attacks. They did not, however, pay tribute to Luis Carlos Cervantes Solano, the director of Colombia's Morena FM radio, who 'was gunned down in the street in Taraza, a town in the northern department of Antioquia' in August, 2014, after uncovering links between drugs, gangs, and the mayor.8  
Luis Carlos Cervantes Solano.
Under the pretext of counter-drugs operations (which other parliamentary sources and rights groups, including Justice for Colombia, have noted is largely a farce), Britain's Minister of State for the Armed Forces, Mark Francois, said in November: 'The Ministry of Defence has an ongoing programme of military support to Colombia … however we do not release any detailed information as it would undermine operational effectiveness and would, or would be likely to prejudice the capability, effectiveness or security of the Armed Forces'.9
One month before Solano's murder, Lord Alton said:
guerrillas and successor groups to paramilitaries have continued to be involved in significant acts of violence. Human rights defenders, trade unionists, journalists, indigenous and Afro-Colombian leaders and IDP [internally displaced persons] leaders regularly face death threats, intimidation and other abuses … [T]he displacements have frequently come about as a direct consequence of corporate investment, when land is wanted for agriculture, oil exploration or coal mining. According to the Colombian constitutional court, 34 groups of indigenous peoples are currently at risk of extinction. The court identified forced displacement as the major cause … [T]he UK has created in this trade treaty something that will benefit British businesses but harm exploited and vulnerable people.10
Here's what BBC News Online had to say about Solano's murder: 'Sorry, there are no results for Luis Carlos Cervantes Solano'.11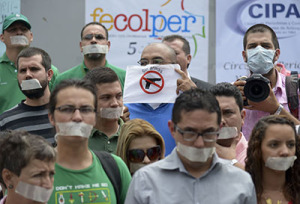 Colombian journalists express solidarity. No such demos in Britain.
BANGLADESH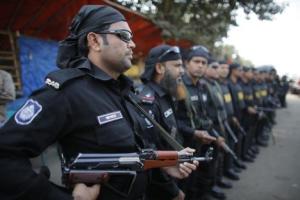 The Rapid Action Battalion.
In 2012, the Oslo Times, notably not the British media, reported an attack on journalists in Bangladesh by the UK-trained death-squad, the Rapid Action Battalion (RAB):
On May 28 … unidentified people attacked the journalists of bdnews24.com at its Amtoli office in the city's Mohakhali, leaving several, three of them critically, injured. The killing squad RAB was unhappy [with] Bdnews24 for the continuous reporting on extrajudicial killings and the involvement of the killings squad [sic] in enforced disappearances. The same force who has attacked the journalist[s] are also looking to assassinate BD News 24 reporter Abu Sufian, who is well known for his accurate reporting on extrajudicial killings by different law enforcement agencies. The killing squad is now using the criminals rather than attacking the journalist directly. Prior to the attacks, RAB appears to have used gangs to murder other journalists.12
In 2005, Lord Avebury informed Parliament:
 The UN Special Rapporteur on Extrajudicial Executions said that he has received no substantive response to the three communications sent to the Bangladesh Government about killings by the rapid action battalion. Representations by Amnesty International have also fallen on deaf ears. Amnesty International says that the RAB killed 147 people in 2004. It talks about a growing tide of violence on members of the Opposition and on public places such as cinemas … Violence against the press is on the rise. The US ambassador says that journalism is the most dangerous profession in Bangladesh. In the past 12 months, more than 400 journalists have received death threats, 320 have been tortured and five have been murdered, including Mr Golam Mahfuz, deputy editor of a daily paper, who was stabbed to death less than a month ago. The editor and publisher of a former weekly tabloid were charged with sedition and the publisher spent 17 months behind bars before he was given bail.13
Like the gangs and paramilitaries in Colombia, the Rapid Action Battalion targets unionists, students, opposition members, socialists, and just about anyone who threatens the country's supply of cheap labour. Here's what the BBC News Online had to say about the killing: 'Sorry, there are no results for Golam Mahfuz'.14
IRAQ
Sardasht Osman.
Until ISIS came along, the media also suppressed the immense suffering of Iraqis since the country was liberated of a million lives by the Anglo-American invaders and occupiers. Since ISIS, Iraq's suffering can be blamed on Islamic extremism. Since the US-UK occupation, Iraqis have endured a shortened life-expectancy, a rise in infant mortality (minus the sanctions years), a surge of unionists, students, and activists put on death-row, and general torture and depravity at the hands of the US-UK-trained military, including prison-rape with sharp objects. (For the sickening details, see this author's 'Remembering Iraq: The Occupation Ten Years On').15  
In that time, Sardasht Osman, a 23-year-old Kurdish freelance journalist and student 'wrote critical articles about the region's two governing parties, their leaders, and the region's ingrained patronage system'. He was killed on 4 May, 2010. 'His tortured body, with two bullets in his head, was found a day later on a road near Mosul'.
Iraqi journalists protest. They were not joined by Britons.
Writing in 2010, Human Rights Watch continues: 'Iraq still remains one of the most hazardous places in the world to work as a journalist. Murders, assaults, and threats continue against writers for doing their jobs. Government officials, political party figures, and militias may all be responsible for the violence, intended to silence some and intimidate the rest'. This was taking place not under ISIS, but under the regimes of the US-UK allies al-Maliki and Barzani of Kurdistan. 16
Here's how the BBC reacted to Sardasht's murder: 'Sorry, there are no results for Sardasht Osman'.17
CONCLUSION
We could go on and on. Until millions of people educate themselves about the crimes of their own governments and demonstrate against them en masse, the moral outrage over the Charlie Hebdo atrocity rings rather hollow.
NOTES
1. See my, 'The Charlie Hebdo-MI6 Connection', PIPR, 13 January, 2015, https://www.pipr.co.uk/all/the-charlie-hebdo-mi6-connection-we-warned-you-false-flag-terror-was-coming/
2. Reporters Without Borders, 6 October, 2014, https://en.rsf.org/algeria-disappeared-kidnapped-journalists-26-02-2014,45931.html
3. Amnesty International Southend, 'Djameleddine Fahassi update', 11 June, 2012, https://www.amnesty.org.uk/groups/southend/djameleddine-fahassi-update
4. Committee to Protect Journalists, 'CPJ Calls on Algeria to Locate Two 'Disappeared' Journalists Appeal Marks Fourth Anniversary of Djamel Eddine Fahassi's Abduction', 6 May, 1999, https://cpj.org/1999/06/cpj-calls-on-algeria-to-locate-two-disappeared-jou.php
5. Robert Fisk, 'Algerian Hijack: France provides covert military aid to regime', Independent, 27 December, 1994, https://www.independent.co.uk/news/world/algerian-hijack-france-supplies-covert-military-aid-to-regime-1388578.html
6. BBC News Online, 'Prove [sic] into missing Algerian journalists', 15 January, 2001, https://news.bbc.co.uk/1/hi/world/europe/1117813.stm
7. Henry Samuel, David Chazan and Rory Mulholland, 'Paris march: After a minute's silence they roared 'We are not afraid!'', Telegraph, 12 January, 2015, https://www.telegraph.co.uk/news/worldnews/europe/france/11338909/Paris-march-After-a-minutes-silence-they-roared-We-are-not-afraid.html . For details on the connections with MI5, see note 1.
8. James Bargent, 'Journalist's Murder Shines Light on Colombia's Politics-Crime Nexus', In Sight Crime, 13 August, 2014,
https://www.insightcrime.org/news-briefs/journalist-murder-colombia-political-criminal-nexus
9. Parliament, 'Colombia: Written Question 210573', 4 November, 2014, https://www.parliament.uk/business/publications/written-questions-answers-statements/written-question/Commons/2014-10-14/210573
10. Alton, 'The Bilateral Agreement for the Promotion and Protection of Investments between the United Kingdom and Colombia', 30 July 2014, Column GC636, https://www.publications.parliament.uk/pa/ld201415/ldhansrd/text/140730-gc0001.htm
11. BBC News Online, https://www.bbc.co.uk/search?q=Luis+Carlos+Cervantes+Solano&sa_f=search-serp
12. Times of Oslo, 'Rapid Action Battalion (RAB) Abuses Journalists in Bangladesh', May, 2012, https://www.theoslotimes.com/rapid-action-battalion-rab-abuses-journalists-in-bangladesh/
13. Avebury, 'Bangladesh', Parliament, 23 June, 2005, Column 1759, https://www.publications.parliament.uk/pa/ld200506/ldhansrd/vo050623/text/50623-12.htm
14. BBC News Online, https://www.bbc.co.uk/search?q=Golam%20Mahfuz
15. T.J. Coles, 'Remembering Iraq', 18 March, 2013, https://axisoflogic.com/artman/publish/Article_65480.shtml
16. Human Rights Watch, 'At a Crossroads', 22 February, 2011, https://www.hrw.org/reports/2011/02/21/crossroads
17. BBC News Online, https://www.bbc.co.uk/search?q=Sardasht%20Osman