Kunduz MSF Hospital U.S. Bombing Survivor, "I want my story to be heard."
By Dr Hakim
8 December, 2015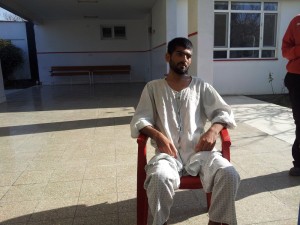 Former MSF Kunduz Hospital pharmacist, Khalid Ahmad, recuperating at Emergency Hospital in Kabul
"I feel very angry, but I don't want anything from the U.S. military," said Khalid Ahmad, a 20 year old pharmacist who survived the U.S. bombing of the Médecins Sans Frontières (MSF) / Doctors Without Borders Hospital in Kunduz on the 3rd of October, "God will hold them accountable." The actions of the U.S. military elicit the same contempt from Khalid and many ordinary Afghans as the actions of the Taliban or the ISIS.
Khalid was a little wary when Zuhal, Hoor and I were introduced to him in a ward of Emergency Hospital in Kabul, where he has been recuperating from a U.S. shrapnel injury to his spine that nearly killed him. But, immediately, I saw his care for others. "Please bring a chair for him," Khalid told his brother, not wanting me to be uncomfortable in squatting next to him, as we began our conversation in the corridor space outside the ward. Having just recovered strength in his legs, he had walked tentatively to the corridor, making sure his urinary catheter bag wasn't in the way as he sat down.
The autumn sun revealed tired lines on his face, as if even 'skin' can get permanently traumatized by the shock of bomb blasts.
"The Taliban had already taken control of all areas in Kunduz except the MSF Hospital and the airport. I felt I could still serve the patients safely because neither the Afghan /U.S. military forces nor the Taliban would bother us. At least, they're not supposed to." Khalid paused imperceptibly. "As a neutral humanitarian service," Khalid continued, "we treat everyone alike, as patients needing help. We recognize everyone as a human being."
"I wasn't scheduled to be on duty the night of the incident, but my supervisor asked me to help because the hospital was swarmed with larger numbers of patients that week."
"I was sleeping when the bombing began at about 2 a.m. I went to see what was happening, and to my horror, I saw that the ICU was on fire, the flames appearing to shoot 10 meters up into the night sky. Some patients were burning in their beds."
"I was petrified."
"It was so frightening. The bombing and firing continued, and following after the bombs were showers of 'laser-like flashes' which were flammable, catching and spreading the fire."
What were those laser-like flashes?
"With two other colleagues, I rushed to the guard house, which was about five metres from the hospital's main gate. In the guard house were four security guards. We all decided to make a run for the hospital gate, to escape the bombing." Khalid's eyes cringed a little, disappointment soaking his voice. Such shock can be too much for a human being to bear; irreparable disappointment at the U.S. military for attacking a humanitarian, medical facility, and an unfair guilty disappointment with self for having escaped death while colleagues were killed. "The first person ran. Then another. It was my turn."
"I took off and just as I reached the gate, with one foot outside the gate and one foot inside the hospital compound, a shrapnel hit me on my back."
"I lost power in both legs, and fell. Dazed, I dragged myself to a nearby ditch and threw myself in."
"I was bleeding quickly from my back, the blood pooling at my sides. Feeling that my end was near, I was desperate to call my family. My colleagues and I had taken out the batteries from our cell phones because the U.S. military has a way of tracking and target-killing people by picking up their cell phone signals. With one good arm, somehow, I pulled out my phone and inserted its battery."
"Mom, I'm injured, and don't have time. Could you pass the phone to dad?"
"What happened, my son?"
"Please pass the phone to dad!"
"What happened, my son?"
I could almost hear his distraught mother wondering what could have happened to her son who should have been safe in the hospital environment. "Mom, there's no time left. Pass the phone to dad."
"I then asked my dad for forgiveness for any wrong I had done. I was feeling faint, and dropped the phone."
"In my half-consciousness, the phone rang and it was my cousin. He asked me what had happened, and instructed me to use my clothes to stop the bleeding. I yanked a vest off myself, threw it behind my back and laid on it."
"I must have passed out, as my next memory was of hearing my cousin's voice and other voices, and being taken to the kitchen of the hospital where some basic first aid was being given to many injured persons."
"I saw people with amputated limbs. Some of my colleagues, some of my colleagues….what wrong had we done? Is this what we get for serving people? "
As I struggled emotionally to register Khalid's story in my mind, I remembered my own training and practice as a doctor in hospitals, and I wished there was a global conversation about the failure of the Geneva Conventions to protect civilians, and health facilities. The European Council in Brussels in 2003 estimated that since 1990, almost 4 million people have died in wars, 90% of whom were civilians. 
I also wished that more individuals could respond to UN High Commissioner for Refugees António Guterres who declared in a June 2015 press release that "We are witnessing a paradigm change….It is terrifying that on the one hand there is more and more impunity for those starting conflicts, and on the other there is seeming utter inability of the international community to work together to stop wars and build and preserve peace."
A positive way to respond would be to join MSF, as well as ICRC President Peter Maurer and UN Head Ban Ki Moon in saying, "Enough! Even war has rules!" , that is, we can sign MSF's petition for an #independent investigation of the Kunduz MSF Hospital bombing. Passively accepting the Pentagon's confessional report of 'human error' resulting in the killing of 31 staff and patients in the Kunduz Hospital bombing would allow the U.S. and other militaries to continue breaching laws and conventions with impunity, like in Yemen right now.
The International Committee of the Red Cross reported in October that nearly 100 hospitals in Yemen had been attacked since March 2015. Just as recently as 2nd December, Khalid's haunting story repeated itself in Taiz, Yemen, where an MSF clinic was attacked by the Saudi coalition forces, prompting Karline Kleijer, MSF operational manager for Yemen, to say that every nation backing the Yemen war, including the U.S., must answer for the Yemen MSF clinic bombing.
Khalid's story was already haunting me, "To transport me, they used body bags meant for the dead. Feeble as I was, I panicked and made sure they heard me protesting, 'I'm not dead!' I heard someone say, "We know, don't worry, we have no choice but to make do."
"My cousin brought me to a hospital in Baghlan Province which had unfortunately been abandoned because of fighting in the area. So, I was taken to Pul-e-Khumri, and on the way, because I had slightly long hair, I heard shouting directed at us, 'Hey, what are you doing with a Talib?'. My cousin had to assure them that I was not a Talib."
So many possible fatal 'human errors' and mistakes….
"There was no available help in Pul-e-Khumri too, so I was finally brought to this hospital in Kabul. I've had five surgical operations so far," Khalid said, his voice fading off a little, "and I needed two litres of blood in all." It struck me from Khalid's account that the U.S. military could bomb a health facility by what Kate Clark of the Afghan Analysts Network suggested as 'ripping up the rule book', and then, not take any measures whatsoever after the bombing to treat casualties like Khalid and many others. If you are a civilian bombed by the U.S. military, you'll have to fend for yourself!
Khalid sighed, "I'm grateful that I've been given a second life. Some of my colleagues…they weren't so lucky." Khalid was exhausted. I understood from working in Afghanistan over the past years of a worsening war that his exhaustion wasn't just physical. "I'm angry. The U.S. military is killing us just because they want to be the Empire of the world."
Khalid asked why we wanted to take his photograph. His question reminded me of what we as individuals can do: taking and seeing his photo in this article isn't going to be enough.
He steadied himself in the chair, placed his urine bag out of the camera's view and said with full dignity, "I want my story to be heard."
Hakim, ( Dr. Teck Young, Wee ) is a medical doctor from Singapore who has done humanitarian and social enterprise work in Afghanistan for the past 10 years, including being a mentor to the Afghan Peace Volunteers, an inter-ethnic group of young Afghans dedicated to building non-violent alternatives to war. He is the 2012 recipient of the International Pfeffer Peace Prize.