No Just War: Professor Sandi Dollinger Reviews Moral Injury and Nonviolent Resistance by Alice and Stoughton Lynd
By Sandi Dollinger
April 28, 2017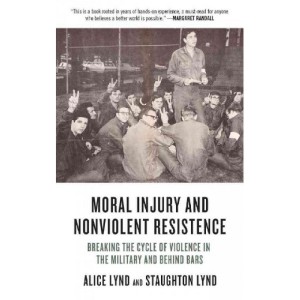 Book cover.
Moral Injury and Nonviolent Resistance is not an easy train read. It is, however, a "Must Read" and very compelling.
In a culture where war is taken for granted, whether it be on a foreign battleground or in a domestic arena, the Lynds offer their book as a plea for Peace.  Peace through nonviolent actions. Peace through voices speaking individually or in community.
Divided into two parts, "In the Military" and "Behind Bars", this new work provides a compassionate, yet comprehensive perspective on the plight of veterans, prisoners and all those whose souls have been broken through violence. Whether perpetrator, witness or victim, they have sustained moral injury, a condition which only grows deeper and deeper until it is finally exposed through stories. The Lynds are here to pass these down to us, harrowing as they are and sparing of no details. Stories that can begin the healing. Stories that wake us up.
Warring in any of its nefarious camouflages is not OK. Banging prisoners' heads against walls is not OK. Torturing Palestinian children to coerce confessions is not OK. Watching from New Mexico while a Predator Drone fires a missile on an Afghan boy is not OK.
We know what is not OK.  But what is? Talking, as David Dellinger did non-stop to avert a crime in front of a friend's cell. By showing respect to the four would-be agents, he turned swords into ploughshares.  
What else?  Sharing our food, for sure.  And perhaps as a starter, simply a smile.  As Thich Nhat Hanh teaches us: "Waking up this morning, I smile. I vow to live fully in the moment and to look at all beings with eyes of compassion."
Sandi Dollinger is an adjunct professor at the College of St. Rose in Albany, NY and volunteers for Voices for Creative Non-Violence in Chicago.