Stopping "Contagion": Greek Syriza Sells Out to Washington, Prepares for Riots
By T.J. Coles
13 July, 2015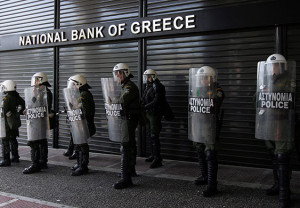 Brussels' technocrats have put enough pressure on Syriza to scupper any chance of Greece's independent recovery, demonstrating the importance of Eurozone debt mechanisms as a method of social control.
 THEY PREDICT A RIOT
In early July, the Sunday Times reported a secret Syriza plan, Operation Nemesis, to prepare for martial law in Greece, a plan 'to deploy the army alongside special riot police to contain possible civil unrest', says the newspaper. '[I]t makes provision for troops to patrol large cities if there is widespread and prolonged public disorder'—not the disorder of hungry children, jobless youths, and impoverished pensioners, but the disorder of ordinary people taking control.1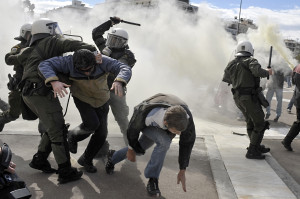 In 2008, police fired 4,600 teargas canisters at demonstrators in the first week of the anti-austerity riots (triggered by the police killing of 15-year-old, Alexandros Grigoropoulos), which followed Greek's financial crisis—so much that gas stocks depleted and help from Germany and Israel was called for. In 2010, PM George Papandreou accepted a €30bn ($40bn, £26bn) loan from the IMF. The Financial Times described Greece's 'rigorous reforms of healthcare and pension funds … and liberalising the labour market'.2
A BBC article on Eurozone debt revealed that Greece's biggest creditor is France (€41.4 billion), with Germany (€15bn) and the UK (€9b€n) second and third. The article explains that a Greek default would wreak little financial havoc but would deal a psychological blow to the international unification project: 'the Greek economy is small and direct damage of it defaulting on its debts might be absorbed by the eurozone, [but] the big fear is "contagion" – or that a Greek default could trigger a financial catastrophe for other, much bigger economies, such as Italy'.3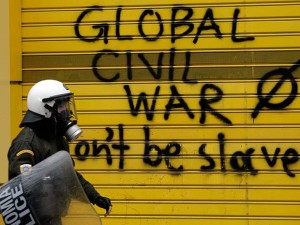 ODIOUS DEBTS
Most Greeks rejected the legitimacy of the debts, which they never asked for, realising that foreign debt is a control mechanism over public services. The future government's Debt Truth Commission found the debts 'illegal, odious, and illegitimate'. The Commission cites:
'the bad faith of the creditors that pushed Greece to violate national law and international obligations related to human rights; pre-eminence of human rights over agreements such as those signed by previous governments with creditors or the Troika; coercion; unfair terms flagrantly violating Greek sovereignty and violating the Constitution; and finally, the right recognized in international law for a State to take countermeasures against illegal acts by its creditors, which purposefully damage its fiscal sovereignty, oblige it to assume odious, illegal and illegitimate debt, violate economic self-determination and fundamental human rights'.4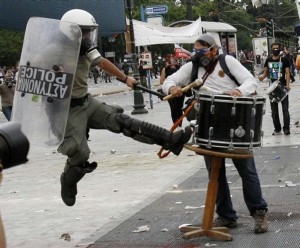 Two months prior to his resignation, Syriza's Greek-Australian, UK-educated finance minister, Yanis Varoufakis, who co-authored a book with a British Labour MP and agreed with Chancellor George Osborne's debt swaps, said: 'we are not going to be the first country not to meet our obligations to the IMF … We shall squeeze blood out of stone if we need to do this on our own'. Although Varoufakis's rhetoric appeared hostile to the European Central Bank, he nevertheless pledged repayment to the ECB.5
A senior EU official described European Commission- and ECB pressure on Syriza as an 'exercise in extensive mental waterboarding', prompting Syriza to accept a €86bn debt. The Guardian described 'The intractable problem … that many governments do not trust the Greek government to implement … spending cuts and reforms that will be delivered as part of a bailout [sic—debt]'.6
The Telegraph reported 'intervention behind the scenes by a team from the French treasury and … aggressive diplomacy by Washington', noting that Syriza accused the European Central Bank of 'liquidity asphyxiation' 'to bring a rebel democracy to its knees.' America's main interest is keeping the Eurozone together, not repayments (Greece owes the US little compared to its debts to France, Germany, and the UK). One Syriza politician complained that PM Alexis Tsipras's move amounts to 'total capitulation. We never had a 'Plan B' for what to do if the European Central Banks cuts off liquidity and the creditors simply destroyed our country, which is what they are doing'. Another, Costas Lapavitsas, said: 'We have ended up with a standard bail-out package'.7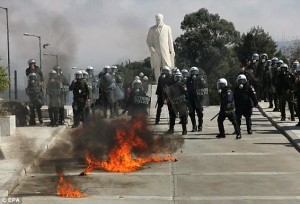 With more debt and 'structural adjustments' on the cards, the Greek poor will suffer more austerity, express more resistance, and fuel State-crackdowns.
NOTES
Matthew Campbell, 'Greek army and police prepare for street battles', Sunday Times, 5 July, 2015, https://www.thesundaytimes.co.uk/sto/news/uk_news/National/article1577226.ece
Kerin Hope, 'Humiliation as Papandreou accepts IMF terms', Financial Times, 23 April 2010, https://www.ft.com/cms/s/0/762db152-4efb-11df-b8f4-00144feab49a.html#axzz3fnBYvHoH
BBC News Online, 'Eurozone debt web', 18 November, 2011, https://www.bbc.co.uk/news/business-15748696
Mike Shedlock, 'Greece declares troika debt illegitimate…', MISH'S global economic trend analysis, 17 June, 2015, https://globaleconomicanalysis.blogspot.co.uk/2015/06/greece-declares-troika-debt.html
AP, 'AP interview: Greece's repayments to ECB need discussion', NYT, 1 March, 2015, https://www.nytimes.com/aponline/2015/03/01/world/europe/ap-eu-greece-varoufakis-interview.html?_r=0
Ian Traynor and Jennifer Rankin, 'Greek crisis', 12 July, 2015, Guardian, https://www.theguardian.com/business/2015/jul/12/greek-crisis-surrender-fiscal-sovereignty-in-return-for-bailout-merkel-tells-tsipras
Ambrose Evans-Pritchard, 'Crippled Greece yields to overwhelming power as deal looms', Telegraph, 11 July, 2015, https://www.telegraph.co.uk/finance/economics/11732926/Crippled-Greece-yields-to-overwhelming-power-as-deal-looms.html