The Kids the World Forgot
By Ken Hannaford-Ricardi
20 January 2017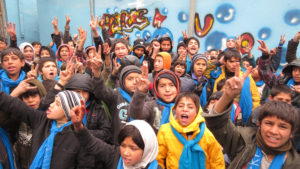 I spent much of yesterday with some kids the world forgot. Young, remarkably sturdy and resilient, they can often be naïve and almost willfully gullible. They inhabit a world that delights in tripping them up and watching them fall. They are Kabul's Street Kids.
Every Friday morning, roughly 100 of these forgotten children sit in noisy – sometimes raucous – groups of seven to ten in a large, unheated classroom, discussing and brainstorming human rights – rights few in the international community seem to acknowledge they enjoy. On this thirty degree Kabul morning, some are in shirtsleeves; few have coats adequate for the weather. They are dirty. They are underfed. They are loved.
These kids are the smallest microcosm of Kabul's estimated 50,000 "street kids", boys and girls who dot the city's already clogged roads selling balloons, "blessing" cars with incense, or lugging  scales on which passers-by are invited to weigh themselves. They perform these demeaning tasks for a meager "fee" which helps their mothers buy food for their families. 
These young children and their parents live on the streets. They camp in the lee of parked vehicles, in the protected corner of a neighbor's courtyard, in abandoned buildings. There are few government – sponsored programs to assist them – no food pantries, clothing giveaways, or free medical care. They are left to survive on their wits in a society too busy to cope with their problems. 
The Afghan Peace Volunteers, a small grassroots program organized by young Afghan women and men to foster and support nonviolent solutions to their country's suffering, originated and operates this "Street Kids School" to supplement whatever education the youngsters are able to absorb through irregular attendance at public schools. Funded entirely by contributions from the international community and staffed by volunteer teachers, the school realizes that no dream – no matter how small – can be achieved without education.
In order to enable the kids to escape the streets and have time to come to class each Friday, mothers of children who faithfully attend the school are given cooking oil and rice to supplement the income their sons and daughters would have earned on the streets. It costs roughly $534 to fund one child's participation for a year. The overwhelming percentage (91%, or $473) is spent for the monthly sack of rice and bottle of cooking oil given to each child's family. The remaining funds are spent on school supplies and winter clothing for the children. The program's annual budget is $53,400.
The Afghan Peace Volunteers expect that each child participating in the school will make steady progress toward literacy every year they attend. In the last year, 30 of the 100 children in the school reached literacy within seven months, evidence that, with guidance, every child, no matter the circumstances, can and will learn!
Ken Hannaford-Ricardi ([email protected]) was in Kabul, representing Voices for Creative Nonviolence (www.vcnv.org).  While there, he was a guest of the Afghan Peace Volunteers (ourjourneytosmile.com)