The Propaganda Translator
By The Plymouth Institute for Peace Research
10 September, 2014.
According to the UK Ministry of Defence in a global projection out to 2040, 'The media will retain an overarching influence shaping an individual's values and beliefs both consciously and unconsciously'. When it comes to war, the media's major aim is to create 'perceptions of moral legitimacy' in the minds of anti-war audiences.1
In a projection out to 2025, the US National Intelligence Council states that elites 'will engage in "media warfare" to dominate the 24-hour news cycle and manipulate public opinion to advance their own agenda and gain popular support for their cause'.2    
Words are important weapons in the 'media war'; so much so that the BBC has a News Styleguide. 'Our task is …to write in such a way that we do not alienate any section of our audience' (emphasis added), the training manual says. Ergo, the BBC calls Israel's illegal annexation wall in Palestine a 'barrier', because doing otherwise will elicit criticism from Zionists. To give one of many examples, the Guide states: 'Do not write ''Troops were forced to open fire … [''] We are in no position to judge motives, … unless we write ''The government says troops were forced…''.3
Modern media language, or newspeak as Orwell called it, sanitises reality to the point of dehumanising the victims of Western state-violence. It elongates words and phrases to the point where all life and meaning is stretched out of the words and the real sufferings of real humans are minimised to technical abstractions.
With this in mind, the Plymouth Institute for Peace Research gives you a linguistic style guide translator: a list of media propaganda terms and translates them into reality.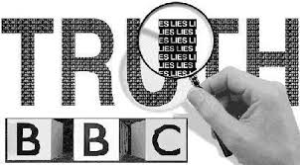 COLLATERAL DAMAGE = DEAD CIVILIANS
(E.g. Micah Zenko, 'Collateral damage in Afghanistan is unavoidable', Guardian, 30 June, 2009, https://www.theguardian.com/commentisfree/cifamerica/2009/jun/24/mcchrystal-usa-afghanistan-air-attacks).
ENGAGEMENT = WAR
(E.g. Alan Greenblatt, 'Can 'limited US engagement in Libya stay limited?', National Public Radio Online, 4 April 2011, https://www.npr.org/2011/04/04/135113364/can-limited-u-s-engagement-in-libya-stay-limited).
ENHANCED INTERROGATION TECHNIQUES = TORTURE
(E.g. BBC Radio 4, 'Enhanced interrogation is effective', 17 October, 2011, https://news.bbc.co.uk/today/hi/today/newsid_9617000/9617346.stm).
INTERVENTION = ILLEGAL INVASION
(E.g. Independent, 'Kosovo: A triumph for intervention', 17 February, 2008, https://www.independent.co.uk/voices/editorials/leading-article-kosovo-a-triumph-for-intervention-783279.html).
INSURGENTS = FREEDOM FIGHTERS
(E.g. Edward Wong, 'Insurgents attack fiercely in North, storming police stations in Mosul', New York Times, 12 November, 2004, https://www.nytimes.com/2004/11/12/international/middleeast/12mosul.html?_r=0).
INVOLVEMENT = OCCUPATION
(E.g. Ian Johnston, 'Britain's involvement in Iraq and Afghanistan was 'strategic failure', Independent, 24 April, 2014, https://www.independent.co.uk/news/uk/politics/britains-involvement-in-iraq-and-afghanistan-was-strategic-failure-claims-report-9279080.html).
(INTER)NATIONAL ECONOMIC SANCTIONS = STARVING AND DEPRIVING MEDICINE
(E.g. Jason Rezaian, 'As Iran's new year dawns, sanctions keep economic outlook in the dark', Guardian, 24 March, 2014, https://www.theguardian.com/world/2014/mar/24/iran-new-year-economy-inflation).
PROLONGED NON-RELIGIOUS FASTING = HUNGER STRIKE
(E.g. NBC, 'Gitmo detainees are on 'long term non-religious fasting': US', 12 March, 2014, https://www.nbcnews.com/news/us-news/gitmo-detainees-are-long-term-non-religious-fasts-u-s-n50661).
PRECISION AIR STRIKES = BOMBING
(E.g. Jim Michaels and Tom Vanden Brook, 'Precision strikes are new weapon of choice', USA Today, 1 October, 2013, https://usatoday30.usatoday.com/news/washington/story/2011-09-30/awlaki-airstrikes/50620046/1).
RENDITION = KIDNAP AND TORTURE
(E.g. BBC, 'Britain 'inappropriately involved in rendition'', 19 December, 2013, https://www.bbc.co.uk/news/uk-politics-25445869).
TARGETED/EXTRA-JUDICIAL KILLING = MURDER
(E.g. BBC News, 'Bodies displayed in Pakistan extra-judicial killing protest', 16 January, 2013, https://www.bbc.co.uk/news/world-asia-21039929).
NOTES
1. UK MoD, 'Strategic Trends Programme: Out to 2040', 9 February, 2010 (4th), https://www.gov.uk/government/collections/strategic-trends-programme
2. National Intelligence Council, 'Global Trends 2025', November, 2008, https://www.dni.gov/index.php/about/organization/national-intelligence-council-global-trends
3. John Allen, 'The BBC News Styleguide', BBC Training, March, 2003, https://www2.media.uoa.gr/lectures/linguistic_archives/academic_papers0506/notes/stylesheets_3.pdf