UK Bombs Texas to Save British Hostage from State Barbarism
By T.J. Coles
29 September, 2014.
Doesn't the RAF tire of bombing Iraq?
The centenary of the First World War is commemorated this year. What have we learnt? Elites have learnt that war pays. The centenary coincided with an Israeli assault on occupied Gaza—Operation Protective Edge—which is a tragic irony given that Gaza hosts WWI memorial graves.1
Other events coinciding with the commemorations include a brutal civil war in Syria stoked by militias armed and trained by Britain, France, and the US; an escalation of violence in Libya, following the NATO assault of 2011; a plea from the Red Cross to help a million Somalis facing starving, most of whom are the victims of a UK-Ethiopia assault, which began in December 2006 and ended with the overthrow a socialist government; and on and on.2
IRAQ 2014: A NEW ILLEGAL WAR
In August 2014, US President Barack Obama lied to the world and said that the Government of Iraq had given the US permission to assist its battle against the Islamic State (IS). In the real world, no public authorisation for US military action was posted on the official Government of Iraq website. Rather, the Kurdistan regional government had given permission.3
Imagine the Government of Northern Ireland authorising Iraq to bomb IRA terrorists in Northern Ireland and the Iraqis claiming that the British Government had authorised the bombings.
On September 24, two days before the majority of British MPs voted to bomb Iraq again, the United Nations Security Council adopted Resolution 2178, reaffirming that 'international cooperation and any measures taken by Member States to prevent and combat terrorism must comply fully with the Charter of the United Nations', meaning that military action can be undertaken in self-defence; a position that clearly does not apply to IS, which has never attacked or threatened to attack Britain or America.4
The UK government website discusses a terrorist attack on the UK and concedes that 'there is no intelligence to suggest that one is imminent'. Britain's elite never intended to attack Syria full-scale, relying instead on proxies. Hence, David Cameron—the man whom, along with Nick Clegg, seized power in 2010 after a contested election—acknowledged that a UK assault on Syria would be unlawful. Legality is the excuse for not bombing Syria. Iraq is, and has been for 150 years, a different story: bombing Iraq is somehow always lawful.5
But what about British and US civilians allegedly kidnapped and killed by IS? Even if we believe that IS really held/holds British civilians hostage, why don't we conduct a thought experiment to see if the moral criteria for an illegal war stands up to scrutiny?
UNWORTHY VICTIMS & ENERGY POLICY
There are many Britons held hostage by barbaric States across the world, but they are unworthy of Government intervention and barely mentioned in the media.
Imagine the British Parliament voting for the Royal Air Force to drop bombs on Texas, where British National Linda Carty awaits murder by lethal injection by the State of Texas for a crime she did not commit.6
Linda, awaiting execution.
Or imagine the Parliament voting for UK military action against Iran for arresting a British woman, Roya Saberi Negad Nobakht, for posting comments on Facebook that the regime is 'too Islamic'. After fears she would be executed, Roya was sentenced to 20 years and appears to have been flogged and beaten.7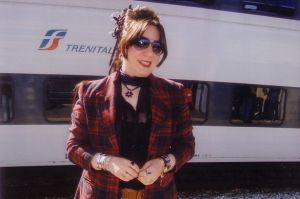 Roya, serving 20 years after fear of execution.
Or imagine the UK bombing Indonesia to free Lindsay Sandiford, a 57-year-old grandmother convicted of cocaine smuggling in Indonesia, a crime she claims to have committed because dealers threatened her children. She was sentenced to death by firing squad.8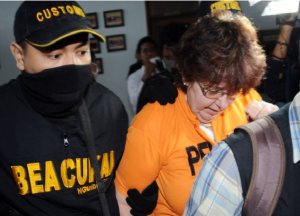 Lindsay, faces death by firing squad.
No one, including this author, would support bombing those countries—even to free Britons from State barbarism, so how can anyone support more bloodshed in Iraq?
Linda, Roya, Lindsay, and others, are of no importance to the British Government because the protection of natural resources in the countries where they are held are not threatened. Indonesia is a good partner to the West in stealing the oil of West Papua (in which BP is involved) and the resources of the Timor Gap.9
The new, 'moderate' theocracy of Iran is cooperating with Britain and America over a range of issues, meaning that Western energy companies may find a line to the country's vast reserves of gas and especially oil.10
As for IS, they are simply the wrong kind of extremists: not our allies. Britain continues to train and arm the brutal Saudi regime, for example, which beheads, amputates, and even crucifies for homosexuality, 'witchcraft', apostasy and other heinous offences.11  
IS is not providing the kind of 'stability'—i.e., allied brutality—that the Saudis or Indonesians provide. A projection by the International Energy Agency said of Iraq: 'political turmoil and security concerns are a growing impediment to supply growth, if not a cause of outright disruptions'.12
NOTES
1. https://www.cwgc.org/find-a-cemetery/cemetery/71701/GAZA%20WAR%20CEMETERY
2. For extensive sources and details, see my articles on Syria, Libya, and Somalia at https://axisoflogic.com
3. Government of Iraq website, no date, https://www.cabinet.iq and Kurdistan Regional Government website, no date, https://www.krg.org/?l=12
4. UNSCR 2178, https://www.un.org/en/sc/documents/resolutions/2014.shtml
5. Home Office, 'Threat level from international terrorism increased', 29 August, 2014, https://www.gov.uk/government/news/threat-level-from-international-terrorism-increased and Andrew Grice, 'Islamic State: Air strikes on ISIS in Syria could be illegal', Independent, 15 September, 2014, https://www.independent.co.uk/news/world/middle-east/islamic-state-air-strikes-on-isis-in-syria-could-be-illegal-9734474.html
6. Reprieve, 'Linda Carty', https://www.reprieve.org.uk/cases/lindacarty/
7. Emily Heward, 'Fears that Stockport woman jailed in Iran over Facebook comments is being tortured', Manchester Evening News, 25 July, 2014, https://www.manchestereveningnews.co.uk/news/greater-manchester-news/roya-saberi-negad-nobakht-stockport-7499819 and Chris Green, 'British woman Roya Nobakht could be executed in Iran after insulting Islam on Facebook', Independent, 2 April, 2014, https://www.independent.co.uk/news/world/middle-east/british-woman-jailed-in-tehran-for-insulting-islam-and-iranian-government-on-facebook-fears-execution-9233732.html
8. Chris Green, 'New evidence in case of British woman on death row in Indonesia leads to call for Government to review its blanket ban on providing legal aid', Independent, 16 July, 2014, https://www.independent.co.uk/news/uk/home-news/new-evidence-in-case-of-british-woman-on-death-row-in-indonesia-leads-to-call-for-government-to-review-its-blanket-ban-on-providing-legal-aid-9609850.html
9. https://www.bp.com/en_id/indonesia/bp-in-indonesia.html and https://timorgap.com/databases/website.nsf/vwall/home
10. Julie Pace, 'Barack Obama welcomes Iran's 'moderate course,' could meet with new Iranian president', Associated Press, 24 September, 2013.
11. Amnesty International, 'Saudi Arabia: Assaulting Human Rights in the Name of Counter-terrorism', July, 2009, MDE 23/009/2009 and Jerome Taylor, 'How Britain taught Arab police forces all they know', Independent, 19 February, 2011, https://www.independent.co.uk/news/world/politics/how-britain-taught-arab-police-forces-all-they-know-2219270.html and Her Majesty's Armed Forces, 'The Royal Military Academy Sandhurst', https://www.hmforces.co.uk/education/articles/1615-the-royal-military-academy-sandhurst
12. Keith Johnson, 'ISIS and the long-term threat to Iraqi oil', Foreign Policy, 17 June, 2014, https://www.foreignpolicy.com/articles/2014/06/17/isis_and_the_long_term_threat_to_iraqi_oil