"We refuse to pay for war!": Statement and signers
By The National War Tax Resistance Coordinating Committee 
30 January, 2017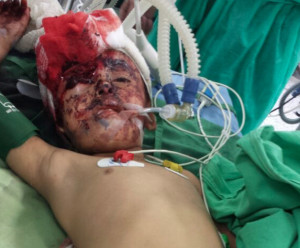 6 year old Yemeni, Amel Naser, injured in the fighting. Saudi Arabia is destroying Yemeni with British and American-supplied weapons and training.
We refuse to pay for war! Nearly half of the federal income tax is funding endless war and war preparations. In good conscience, we will not pay this war tax. Some of us live below a taxable income. Many of us who are taxable have chosen to re-direct our refused taxes to organizations that provide for basic human needs. To explore this form of conscientious objection, please contact the National War Tax Resistance Coordinating Committee at www.nwtrcc.org or (800) 269-7464 – for information, literature, counseling and guidance.
Pamela Allee, Bob Bady, Steve Baggarly, Johnny Baranski, Larry Bassett, Nathan Beall, Suzanne Belote Shanley, Ruth Benn, Frida Berrigan, Greg Boertje-Obed, Roy Bourgeois, Kathy Boylan, Joseph Byrne, Jean Chapman, Minga Claggett-Borne, Alan Clemence, Frank Cordaro, Betsy Corner, Susan Crane, Frances Crowe, Larry Dansinger, Ralph Dolan, Frank E. Donnelly, Jim Douglass, Shelley Douglass, Bill Durland, Genie Durland, Padma Dyvine, shulamith eagle, Aaron Falbel, Raquel Falk, Margie Farren, Katherine Fisher, Maureen A. Flannery, Ken Freeland, Eszter Freeman, Fran Fuller, Bruce K. Gagnon, Rick Gaumer, Carol Gilbert, Rick Gottesman, Clare Grady, David Gross, Bishop Thomas Gumbleton – Archdiocese of Detroit, James Haber, Emilie Hamilton, Clark Hanjian, Larry Harper, Arthur Harvey, Ed Hedemann, David Hartsough, Jan Hartsough, Martha Hennessy, Janet Hicks, Tonia Jodis, Tom Joyce, Barb Kass, Randy Kehler, Charlie Keil, Judith Kelly, Kathy Kelly, Stephen Kelly sj, Gene Keyes, John Klein, Phoebe Knopf, Sam Koplinka-Loehr, Loren Kramer, Randee Laikind, Scott Langley, Henry Lappen, Linda Leaks, Steve Leeds, Mary Link, Paul Magno, Jonathon Marley, Stephen Matchett, Bonner McAllester, John McIntire, Stan McCumber, Karl Meyer, Mike Miles,  Rick Mihm,  Mary Moody, Anne Moore, Markley Morris, Michele Naar-Obed, Hattie Nestel, Bill Ofenloch, Steve Olshewsky, Patrick O'Neill, Mary Jo Pfander, Becky Pierce, Ardeth Platte, Susan N. Quinlan, Jason Rawn, Mary Regan, Robert Riversong, Lawrence Rosenwald, Vicki Rovere, Nelia Sargent, Claire & Scott Schaeffer-Duffy, Ginny Schneider, Ralph Schwartz, Janice Sevre-Duszynska, Brayton Shanley, Cindy Sheehan, Joanne Sheehan, Patrick Sheehan-Gaumer, Mary Lynn Sheetz, Daniel Sicken, William Spademan, Kara Speltz, Mary Sprunger-Froese, Jessica Stewart, Jim Stockwell,  Finian D. Taylor, Don Timmerman, Patricia Tompkins, Joan Wages, Denise Ward,  Paki Wieland, Kim Williams, Thomas A. Wilson DDS, Steve Woolford, Jenny Wright, Lenore Yarger.
As a war tax refuser, will you join us? We can add your name to the statement. At some point in the near future, the statement and names will be printed in as many peace and justice publications and media sources as possible. To include your own name only, please send an email to: [email protected]. Thank you.